Gary Heatwole
President and Master Technician
I've always believed that the key to running a professional automotive shop is to treat my customers like I would want to be treated. By following this guideline, my staff and I are able to build a level of trust with you, the customer. With this level of trust, we can educate you about necessary vehicle repairs and future maintenance. I like to give the customers the consideration to help them make the right decision before performing any repairs on the vehicle. I can sleep better at night knowing that I have educated a customer so he or she understands exactly why they are spending money on a particular repair. I want to know that customers won't have to question themselves about whether they really needed that particular repair or not. We strive to give our customers the greatest benefits we can offer to help them feel right about what they are spending for their vehicle. It is so easy for people to assume how simple things ought to be in the repair business and that is where it pays off to be talking one-one-one with our customers.
Ken Bright
Technician
39 years of experience
21 years with European Motorsports
Specializes in BMW & Mini
18 years with EMS
Master ASE Certified
Factory Trained with Continued Education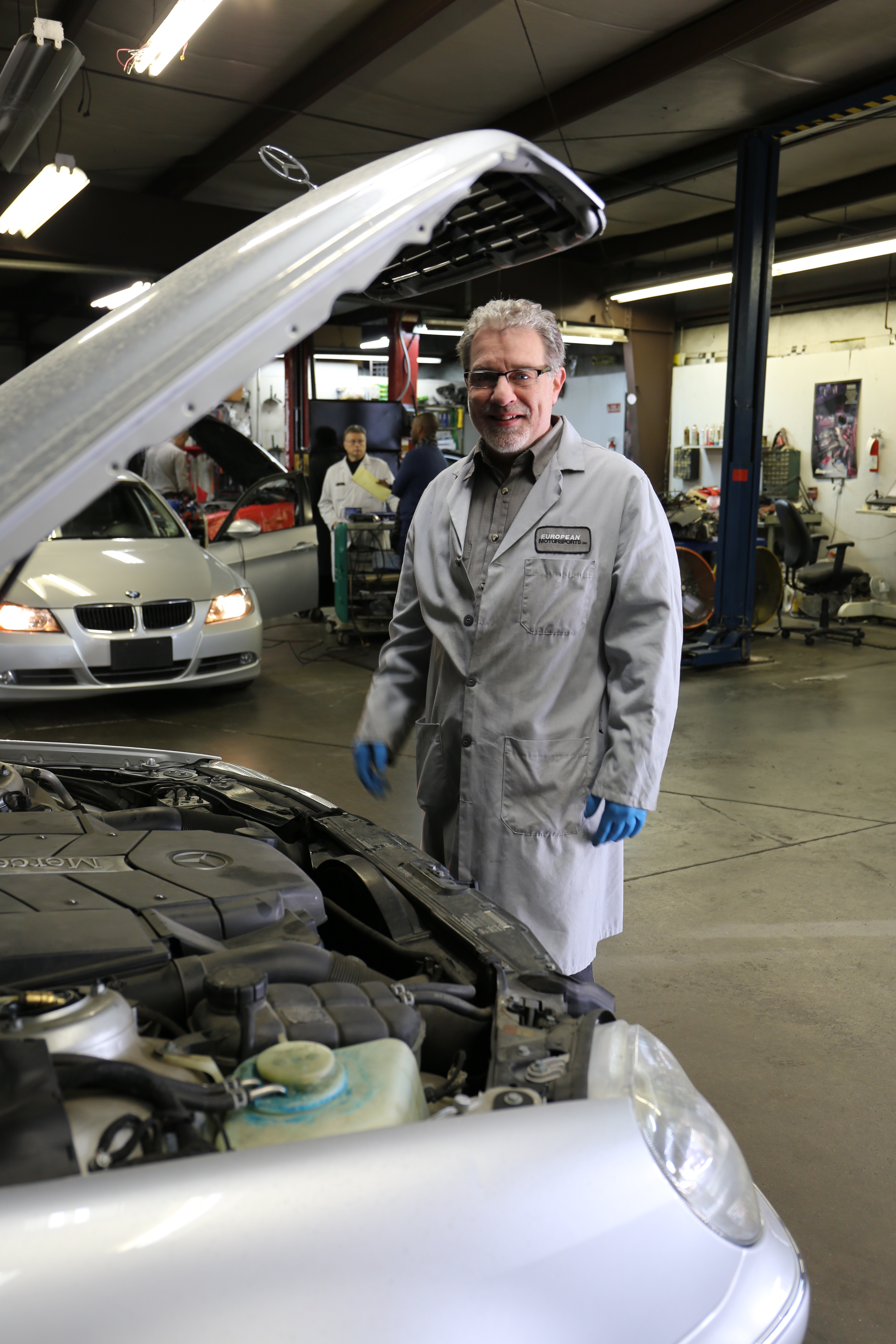 Steve Chais
Technician
36 years of experience
33 years with European Motorsports
Specializes in Merceded-Benz
ASE Certified
Factory Trained (Bosch and LMV)
I have been the owner of four BMWs over the past 30 years. For the last 20 years I have taken my cars to European Motorsports. My current BMW 745 remains in tiptop shape because I won't go anywhere else. The guys there are so easy to work with, keeping me informed of the work they are doing.
I understand that to keep a car of this caliber in great condition you need great mechanics and that's what I have in the team at EMS!
Randy H.
I want to thank European Motorsports for the excellent service that I have received for my Jetta repairs. I really appreciate the time they took to explain everything to me so that I understood what was needed to be fixed and how much the repairs would cost.
Not only did they repair my car in a timely manner, but they also gave me great customer service. I will recommend you to my friends and will definitely return the next time I need anything done to my car!
Don B.
I bought my Audi A6 about five years ago not knowing about its history of repair or condition. A friend recommended me to European Motorsports for they offer pre-buy inspections as well as post-buy inspections.
After speaking to Gary and the technicians in great detail about the condition of my car, I knew immediately that European Motorsports was the place I should be taking my car for future repairs.
Five years later, I am still bringing my A6 to European Motorsports because they offer excellent mechanical and customer service. I wouldn't have it any other way.
Blake L.